For the sixth time the "Initiative Mittelstand" made sure that innovative IT-solutions really reach their target group - the medium-sized businesses. Among hundreds of nominees cmsWorks was chosen to be listed in the "Mittelstandsliste". This list is a reliable and complete navigator leading through the whole range of IT products and solutions that are appropriate for the small firm sector.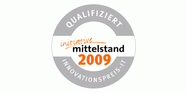 The cmsWorks package for medium-sized businesses was especially developed for those companies that cannot keep up with the maintenance of their static websites or the complexity of their content management system any longer. Sometimes it is virtually impossible to to just putting a simple news online. With the cmsWorks package for medium-sized businesses one can reduce time and costs by having a more actual and more complex online offer at the same time. The excellent package for medium-sized businesses includes an adequate software license with many practical features and a service package which makes a change easier.
There is a special service for customers that change from another CMS. For less than 4000 euro you will get a high-capacity content management system and a comprehensive all-round service package including even the adjustment of the web designs.