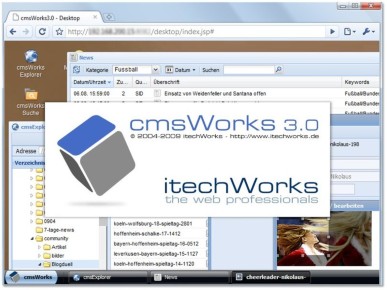 Just recently itechWorks' Content Management System succeeded to easily deliver 50 million Page Impressions per month of a very complex site. With the new and improved version of cmsWorks we are striving to double that number.
Faster and yet more dynamic: Web 2.0 ready
One of the reasons why cmsWorks 3 is a combination of evolution and revolution: Internal caching mechanisms of the Content Management System were improved to the extend that there are now 90% less database request necessary. Thus 100 million Page Impressions with just one server is possible, cmsWorks stays scalable in an almost linear way. At the same time itechWork's Community Server was presented, which provides dynamic, highly performing Web 2.0 extensions with an unseen flexibility.
Personalization, easy handling and multi-language integration
Some of the other improvements include personalization to an extend that even not many native application provide you with, not to speak of a web-based environment like the cmsWorks editors desktop. For example: Whenever you re-login to cmsWorks, your working space (windows, icons and more) will be restored just like it was when you logged out, so you can continue to work where you just interrupted. The improved image tool can resize, crop, turn, mirror and optimize uploaded pictures right in the CMS server. Every CMS user now can have a different system language assigned to him or her.
Improved search / XML-integration and enterprise connections
The internal document search engine and the media asset management got new features and filters. Data-grid/XML documents got an easy to use yet powerful input field. Creating and changing a site's navigation structure has become much easier. A LDAP/Kerberos (ADS) service was introduced.